Penn Yan's Cold War "Thaw"
Yates Past - March 2008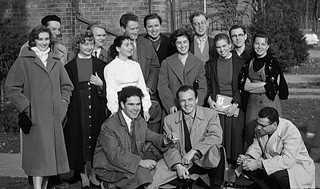 In November of 1959, twelve Soviet citizens came to Penn Yan and lived in six homes in the community for a week. What made this event unusual was that the policy of detente (relaxation of tensions between the United States and the Soviet Union) was still ten years in the future. 1959 was at the height of the Cold War. The year started with a revolution in Cuba which eventually became clear would result in a communist dictatorship 90 miles from Key West, Florida. The Space Race, which had started in earnest two years earlier with the Soviet launch of Sputnik, was well underway as both powers started programs for manned space flight. Nikita Khruschev came to the US that September to attend a "Summit" with President Eisenhower and was denied permission to visit Disneyland in California resulting in another outburst of anger from the Soviet leader. It was a time of great tension between the two world powers and in the midst of it the Penn Yan community made a small attempt to relax tension and promote cultural understanding.
The program was carried out by the Experiment in International Living under the auspices of the US State Department and the government of the USSR. Locally, it was coordinated by the Adult Education Council of the Penn Yan Central School District. Penn Yan was chosen for the program because there had been an active adult foreign exchange program in the community and the Experiment in International Living was familiar with the area and knew it would be a good place to conduct an experiment in international relations.
The eight men and four women included a government official, a movie actress, a world class pianist who had finished second to Van Cliburn at the International Tchaikovsky Competition in Moscow the year before, engineering students, an agriculture student, a language student, a medical student, a factory worker, and a journalist. They ranged in age from 22 to 32 and lived in the Moscow area. They were paired up to stay with their host families with the idea that one would be somewhat familiar with the English language and could interpret for the other. Living with average American families in an average community, their goal was to learn as much as possible about the American way of life. They were advised, as were the six host families, to avoid discussions on foreign policy and ideology but to focus instead on how people lived. The catch phrase for the visit was "person to person, not policy to policy."
The visitors had a very full schedule during their week in Penn Yan. They attended classes in Penn Yan schools, saw a Penn Yan-Geneva football game, watched "South Pacific" at the Elmwood Theater, toured the Cornell campus in Ithaca as well as Keuka College, visited a farm in Potter, the Emerson chicken processing plant in Middlesex, the Gold Seal Winery, and had a tour of the Penn Yan Boat factory which included a ride on Keuka Lake. They were guests at luncheons hosted by Kiwanis and the Rotary Club. A highlight of the week (and an "Only in America" moment) came when the Soviet guests hosted a party at the American Legion for their host families, a few village dignitaries, and a CBS television news crew. That evening also happened to be the 42nd anniversary of the success of the Bolshevik Revolution, a major holiday in the Soviet Union. The anniversary was celebrated with goodwill toasts offered by both groups with Soviet and American flags on the tables. The dinner was followed by music and singing of Russian and American songs.
The week before the students arrived in Penn Yan, the Chronicle-Express sounded a note of caution about the visit saying...."Our Russian visitors, if they run true to form, will be carefully selected to sell us on Communism or Russian life under the Party. They may observe keenly, but will admit finding nothing new of any significance. .....We can be certain that at least one of the group will be a member of the secret police..... so we will act naturally and be friendly realizing all the time that they have been trained as good propagandists, eager to sell us on Russia, the Party, and Khruschev". It was true that they claimed that they were not surprised by anything they saw in this country, that they had been well prepared for their visit. However, very little was done to "propagandize" the people of Penn Yan. They expressed pride in Soviet scientific accomplishments (such as Sputnik) and the Soviet's rapidly increasing manufacture of commercial goods, but the students generally avoided discussion of political topics unless asked about something directly. The week was a very positive experience for all involved. Stereotypes were shattered on both sides: not all Americans were cowboys, not all Soviet women looked like shot-putters, and not all Russian men were bearded Cossacks. As usually happens when people of different cultures get to know each other, the Soviets and Americans both found out that they had much more in common than they had previously thought.
One of the host families was then Assistant District Attorney Fred Dugan, his wife Marcia, and their two young children. They hosted Igor Markarov, an engineering student, and Alexander (Sasha) Krivopalov, a journalist. On their last night at the Dugan's home, the two guests brought out some good Russian vodka and caviar and they all toasted that their children "would live in peace and know one another." They had earlier given the Dugans a gift of a desktop model of Sputnik with a music box in the base that played a national tune that extolled the beautiful scenery of Mother Russia. The next morning the twelve Russian students and their translator and guides gathered to say goodbye to their hosts and leave on the next stage of their journey. As Fred Dugan later wrote, "I was surprised when they were ready to get in their car, that Igor came to me and shook my hand. After he shook my hand, he placed both hands on my shoulders and kissed me on one cheek, then another and did it again. It was one of the most sincere gestures and I am thankful that I was standing firm on the ground so that I did not fall over as I was very much surprised. Alex then came over to us and as I shook hands with him, he hesitated shortly and then kissed me on one cheek. I think he was somewhat embarrassed because he knew it was not our custom but wanted to make some expression of his sincere appreciation. The group then left in their automobiles and my last sight of them was Igor waving from the passenger window of the automobile and shouting "Goodbye, Penn Yan!".
It certainly was an "experiment in international living" for all involved. Thank you to YCGHS member Marcia Dugan for bringing this interesting chapter from Penn Yan's past to my attention and sharing her memories, files, and slides of the visit with me. The other host families were Mr. & Mrs. Elmer Willard, Mr. & Mrs. Stanley Stout, Mr. & Mrs. John Bailey, Mr. & Mrs. Lyndon Potter, and Mr. & Mrs. Sheldon Stephenson. Mr. & Mrs. Ted Henry hosted the group's guide and Mr. & Mrs. Roland Micklem hosted their interpreter.
by Rich MacAlpine