Digital Research Resources Available at the L. Caroline Underwood Museum
The Spencer Research Center located on the first floor of the L. Caroline Underwood Museum now has a computer dedicated to making available our digital resources which include all of the Yates County newspapers available to us and over 6,000 photographs indexed and easily searchable.
Included in a Yates County History Center membership is the on-site use of the Spencer Research Center.
Photographs
An estimated 6,000 photographs from our collection have been digitized. Visit our sample selection.
Newspapers
Newspapers published in Yates County from as early as 1822 to just a decade ago have been digitized and are available to search at the online repository NYS Historic Newspapers or by visiting the Spencer Research Center at the L. Caroline Underwood Museum.
The guide General Comments and Search Examples will help you get started searching these valuable resources, including a workaround to handle minor problems searching.
Videos
YCHC has an impressive collection of videos and a selection of them can be view at our YouTube station with more are available at the Research Center.
Presentations and lectures can be viewed on our Vimeo station.
New York, Yates County, Swann Vital Records Collection, 1723-2009
Swann Vital Records Collection, found at FamilySearch, is a digital index to 88,000 images located at the Yates County History Center, in Penn Yan, New York. FamilySearch is a world leader in capturing, indexing, preserving and providing online access to genealogy records.
The Swann Collection contains compiled genealogy and vital records gleaned from newspaper clippings, bible pages, and family records. Named for Frank L. Swann (1894-1987) who was the Yates County Historian from 1956 to 1980.
Kira Grape Label Collection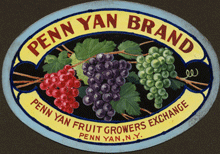 Yates County History Center holds in their collections over 200 grape labels which were at one time used on "pony" baskets of eating grapes. From the 1890's through the 1920's millions of pony baskets of grapes were shipped from the Finger Lakes of New York to nearby cities. While production numbers for the quantity of grapes shipped do not exist, two examples of the numbers of baskets made and shipped give an idea of the magnitude of the industry. One manufacturer of baskets made over 9 million pony baskets in 1917 while one supplier of handles for these baskets sold over 8.5 million that same year.

The majority of the grape labels that adorned these baskets in Yates and adjoining counties were printed in Penn Yan by the Chronicle, one of the local newspapers. In the early years of this fruit business, customers looked for grapes from specific packers. This led to more attractive labels to catch the customer's eye. We today are the beneficiaries of this label art.

Approximately half of the labels in our collection are from Yates County. Others are from nearby Finger Lakes and from the grape growing regions of western New York on Ontario and Erie Lakes. Mr. George Kira of Staten Island started collecting these labels in the early 1990's and generously donated them to us.

The labels are sorted by region and all are available in a printed form. Contact Yates County History Center for cost & ordering details.
Keuka Lake | Seneca Lake | Finger Lakes | Hudson Valley | Lake Erie | And More