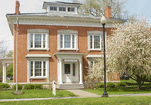 Oliver House Museum

Children's Room
The youngest visitors to the Yates County History Center now have a fun filled room just for them. The children's room at the Oliver House Museum is now open for everyone's enjoyment.
Executive Director Tricia Noel noted that past visitors to the History Center had asked about child friendly activities in Yates County. "We are very pleased to offer a fun learning experience for our youngest guests. The agricultural theme is a salute to our farming friends and neighbors."
The dedicated room on the second floor of the Oliver House Museum is painted a colorful blue and decorated with images of young farm animals. Children are invited to come and meet Betsy the cow and harvest apples off a tree. Betsy, a holstein dairy cow, stands four feet tall. A raised bed veggie patch is filled with carrots for kids to harvest and apple tree for picking apples. Puzzles, books, a chicken coop and barn are all available for visitors to play with.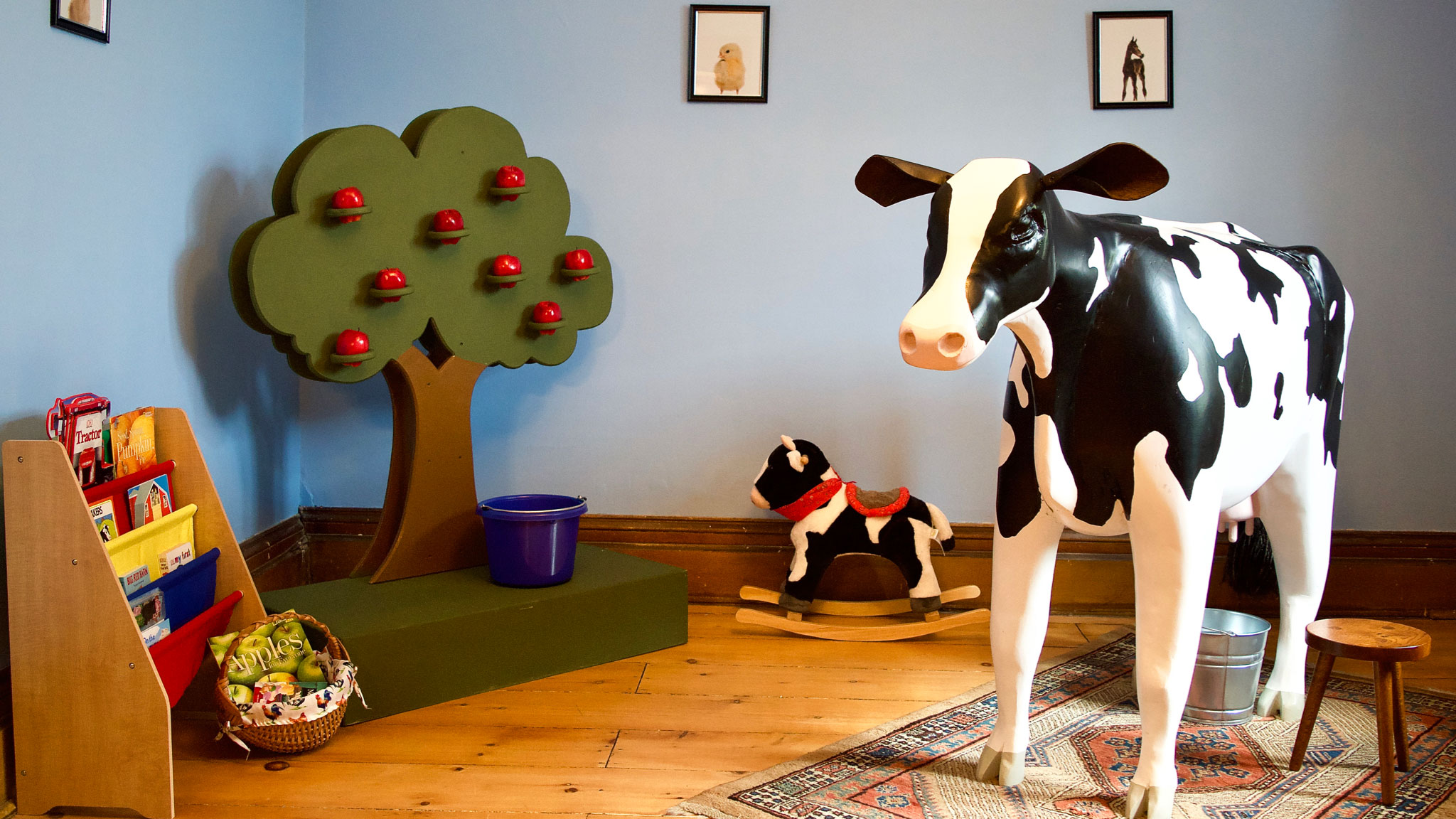 Betsy the Cow was handcrafted and donated by Oak Grove Woodworking and students from Penn Yan Acdemy constructed and donated this vibrant apple tree.
Little Yates
Two million years ago, glacial sheets cut deep gashes in the western New York land, forming eleven Finger Lakes ... The story continues!
Explore Yates County's origin in the newest exhibit in the Oliver House Museum.

Irish Domestics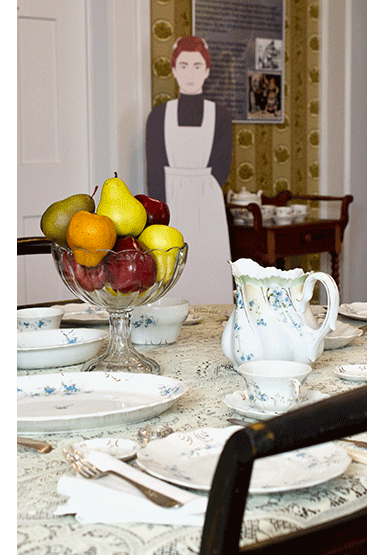 The Great Hunger or the Great Irish Famine of 1845 - 1851 caused mass migration, as about 1.5 million people fled Ireland, mostly to North American eastern coast ports.
By 1850, there were just over 300 Irish-born people living in Yates County with the vast majority living in the village of Penn Yan. Ten years later the number of Irish-born people in the county more than doubled to over 700 or about four percent of the total population, the greatest concentration still in Penn Yan.
They brought much needed unskilled labor to the area that was rapidly developing agriculturally and industrially. The 1860 census reveals that 80 percent of the 302 Irish-born men listed "farm laborer" or "day worker" as their occupation and that all but two of the 125 Irish-born women listed "domestic servant" as their occupation.
Early Irish immigrants to Yates County were considered foreign and their Catholic religion in a strongly Protestant area was met with disdain. Eventual acceptance came only after their participation in the Civil War.
The Oliver family employed several female servants throughout their years on Main Street. Visit the Oliver House Museum and learn what it must have been like for Mary Finnegan, age 19, or Kate Sweeney, age 15, to be servants in the Oliver household in 1860. See a few small artifacts that made the journey with these young ladies across the Atlantic.
The above was taken in part from the article "The Irish in Yates County" written by Richard MacAlpine that was originally published in "Yates Past."
100th Anniversary of American Legion
The American Legion was chartered by Congress in 1919 as a patriotic veterans organization. Focusing on service to veterans, service members and communities. The Legion evolved from a group of war-weary veterans of World War I into one of the most influential nonprofit groups in the United States. Membership swiftly grew to over 1 million and local posts sprang up across the country. Today, membership stands at over 2 million in more than 13,000 posts worldwide.
Carlotta "Kirk" Crosier achieved the rank of major while in the military and became the first female Commander of Johnson-Costello American Legion Post in Penn Yan.
This exhibit celebrates the 100th anniversary of American Legion by showcasing uniforms and artifacts from various wars the United States has participated in. See Carlotta's Captain's Uniform from WWII and her American Legion hat.
Johnson-Costello Post #355 American Legion and VFW Post #8649 Dundee are sponsors of this exhibit
The Healers
For 100 years the Oliver doctors treated injuries from train, sawmill and farming accidents, burns, and diseases such as dropsy, catarrh and apoplexy. The exhibit focuses on their training, treatments and daily life as highly respected members of the Yates County community. On display are Dr. Andrew Oliver's desk with daily ledger, the medical library, and examples of tonics and treatments used to heal the sick. The doctors' legacy as noble benefactors of a suffering humanity lives on in this extensive display.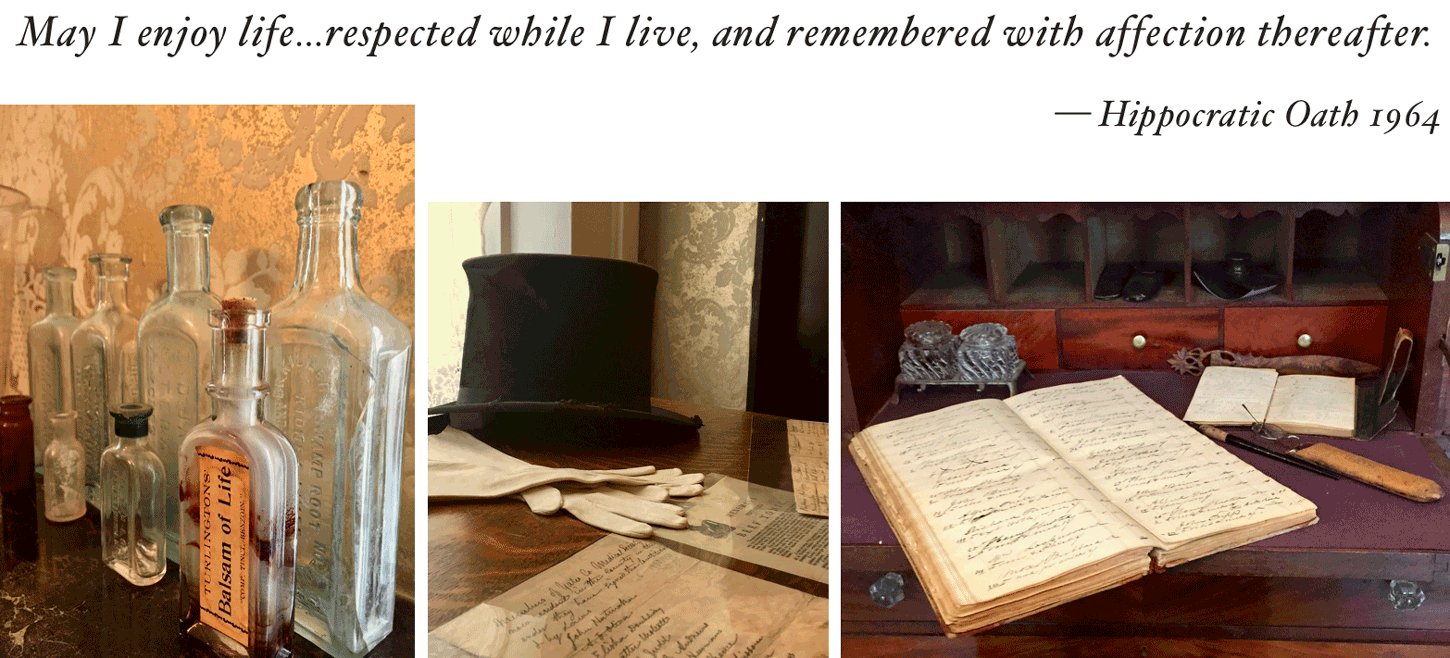 & More
Five major rooms in the house, many with original furnishings and portraits, are maintained as Victorian period rooms on permanent display. One room is dedicated to Native American history. Creative staff and volunteers continue to design new displays to showcase artifacts from the collections of the YCHC. Below is a sneak peak at recently curated exhibits.
---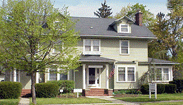 L. Caroline Underwood Museum
How Should We Then Live?
The Groffdale Conference Mennonites of Yates County
Forty-five years after the first Mennonite family migrated from Ephrata, Pennsylvania, comes a groundbreaking exhibit explaining the customs of these deeply religious people. Extraordinary images of this beautiful Finger Lakes county and its unique citizens create a stirring exhibit promoting understanding and neighborly love.
Funded by a Humanities New York Action grant with support from the National Endowment for the Humanities.
---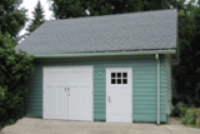 Scherer Carriage House Museum
Nationally renowned as the Publick Universal Friend, Jemima Wilkinson and her group of followers formed the first pioneer settlement in what is presently Yates County. The Society of Universal Friends, consisting of nearly 300 members, was the largest of its kind this far west in New York State in the year of 1790.
The Scherer Carriage House Museum is dedicated entirely to Jemima Wilkinson, her impact on women, religion and Yates county. It is here where you can learn about her religious reawakening and courageous journey.