Susan Miller Dorsey (1857-1946)

Yates Past - March/April 2009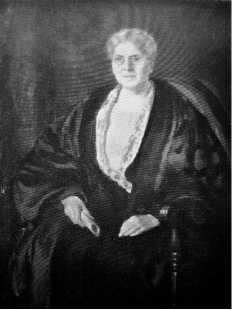 Yates County has produced a few female "pioneers" over the years. The first one to come to mind might be Jemima Wilkinson, the "Publick Universal Friend who, although not a native of the area, was critical to the early development of what eventually became Yates County. She was the first American-born woman to found a religious group. Lesser known, but no less significant, was Susan Miller Dorsey. She was a native of Yates County that went on to become the first woman superintendent of a major metropolitan school district in the country, Los Angeles, California.
Susan Miller was born just outside the village of Penn Yan in 1857. Her parents were James and Hannah Benedict Miller and the family farm was in the Town of Jerusalem near where Sherman Hollow Road branches off from County House Road. An excellent student, she set her goal very early to be a teacher. She graduated from Penn Yan Academy in 1873 at the age of sixteen and immediately went off to Vassar College in Poughkeepsie. She graduated from there four years later having majored in Greek, Latin, history, and English and having earned a Phi Beta Kappa key. Susan Miller immediately landed her first job, teaching the classics at Wilson College, a women's school in Chambersburg, Pennsylvania. She taught there for just one year when a death on the faculty at Vassar caused the administration there to locate her and entice her back to Vassar as an instructor in Greek and Latin. She taught at her alma mater for three years. During that time she married Patrick Dorsey, another Yates County native, who was starting his career as a Baptist minster. In 1884, Rev. Dorsey received a call to minister to a congregation in Los Angles (at that time a village of less that 12,000) and the newly married couple went west. The Dorseys had a son born out there, but the marriage did not work out. Abandoned by her husband and their son in the early 1890s, Susan Dorsey worked for a while as a social worker and then went to work teaching Latin in the only high school in Los Angeles in 1896. She quickly rose through the ranks from teacher to department head to assistant principal. In 1913 she was appointed Assistant Superintendent of the Los Angles schools and in 1920 at the age of sixty-three she was chosen to be Superintendent, a post that she initially declined but the Board of Education refused to consider that and she eventually accepted. During the nine years she was Superintendent, the population of Los Angeles more than doubled and that was reflected in the student population of the school district. It was the fastest growing school district in the world in the 1920s. Dealing with this record growth was Mrs. Dorsey's biggest challenge. In 1927, she said "In seven years our attendance has increased from 100,000 to 200,000. No school system and no city in the world has had to cope with such a problem. One year ago we had one hundred buildings under construction at the same time. Today we are caught up with our building program but this year the school attendance has increased 14,000 again." When she retired in 1929, she ran a school district with over 400 buildings and a yearly budget of over $30 million. Aside from dealing with the rapid growth of the district Mrs. Dorsey was credited with developing their kindergarten program, establishing an Americanization program for foreign-born students, found ways for the district to adapt to the needs of handicapped students and those with special reading difficulties. She oversaw the development of courses for teaching California history and started a vocational training program.
What is most striking in learning about Susan Miller Dorsey (especially for this writer, a retired career educator) was the love and respect that the people of her district had for her. When she announced her retirement in 1928 at the age of 72, the teachers of Los Angeles raised the money to commission a professional artist, John Hubbard Rich of Hollywood, to paint her portrait. A photo of that portrait accompanies this article. For the unveiling of the portrait, a special ceremony was held at the Shrine Auditorium in Los Angeles in January of 1929, attended by hundreds. The Los Angeles School Journal reported "A cap and gown processional composed of college professors, leading educators, and outstanding public officials will precede the ceremonies." The Governor of California and the Mayor of Los Angeles both spoke and there was a major address by the Dean of the University of California. The portrait was presented to the County of Los Angeles to be displayed in their art gallery. In 1937, a new high school was opened in the city and named Susan Miller Dorsey High School, the only time a school in L.A. was named after a living person. At that time the portrait was moved to the library of the school and hung there for thirty years. Over the years Mrs. Dorsey was awarded honorary degrees by Vassar College, Pomona College, Occidental College, the University of Southern California, and the University of California. Susan Miller Dorsey High School is still going strong in South Los Angeles. There is a dormitory named in her honor at Scripps College in Claremont, California where she once sat on the Board of Trustees and there is still a scholarship fund in her name at Vassar. She died in Los Angeles in 1946 at the age of 89.
There is an interesting story involving her portrait. Janet Colman, a student at Susan Miller Dorsey High School in the early 1960s, was impressed by the portrait and was motivated to learn more about the woman in it. What she learned partially influenced her decision to go into teaching as a profession. After college in 1970, Mrs. Colman came back to teach at Dorsey High and noticed that the portrait was missing. She became obsessed with locating the portrait and eventually learned that when the high school library was being painted in the late 1960s, it was returned to Los Angeles County. The portrait was then deaccessioned and put on sale in the early 1980s. By chance, in 1985 Mrs. Colman learned that it was hanging in a private home, having been bought by a man who wanted a portrait done by John Hubbard Rich. He had no idea who the woman in the painting was. Janet Colman went to the man's home and asked if she could purchase the portrait. He eventually got back to her with an asking price of $25,000 and the price floored her. Her husband, knowing how much his wife valued the portrait, worked out a deal with the man who owned it. Janet and her husband run a business in Los Angeles that collects and sells old movie posters. He offered $25,000 worth of collectable movie posters for the portrait of Susan Miller Dorsey. The deal was made and Susan Miller Dorsey's portrait has hung in the Colman's living room in Los Angeles since 1986 and will eventually be given back to the high school.
Special thanks to YCGHS member Mary Ritchie of Redondo Beach, California who emailed us the idea for this story, and Janet Colman of Los Angeles who sent me a wealth of information on Susan Miller Dorsey (which has been added to the "Dorsey" file in the Underwood Museum).
by Rich MacAlpine