We've Been Asked: Who WAS Robert Ingersoll?
Yates Past - September/October 2009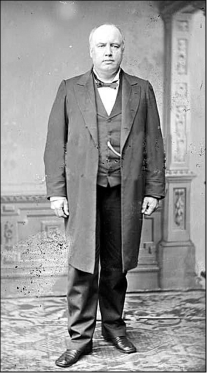 The simple answer to that question is in the introductory video used at his birthplace museum in Dresden: He was "the most remarkable American most people never heard of." He was born in the village of Dresden in August of 1833 and only lived in Yates County the first four months of his life. His father was a Presbyterian minister who embraced abolition and was pressured to relocate quite often. Robert lived most of his adult life in Wisconsin and Illinois.
What was "remarkable" about him? He was a lawyer who was the Attorney General of Illinois. He was a Civil War veteran, having served as a colonel in the 11th Illinois Cavalry. He served with distinction at the battle of Shiloh and was later taken prisoner and subsequently paroled. He was a lifelong Republican and gave the nominating speech for James G. Blaine at the 1876 Republican Convention. Although Blaine did not receive the nomination that year, Ingersoll's speech was considered to be one of the great convention speeches of the 19th Century. The most quoted line from the speech: "Like an armed warrior, like a plumed knight, James G. Blaine marched down the halls of the American Congress and threw his shining lances full and fair against the brazen forehead of every defamer of his country and malinger of its honor." gave Blaine the nickname "The Plumed Knight" It was as an orator that Ingersoll made his reputation. The 1876 convention created demand for him as a speaker and he spoke all over the country. He delivered around 1,500 lectures in thirty years. One speech in Chicago attracted 50,000 people. The introductory video at the Ingersoll Birthplace Museum claims he was "seen and heard by more Americans than any human being prior to the advent of motion pictures and radio." He spoke on politics, literature, patriotism, morality, and women's rights. He attracted admirers such as Frederick Douglas, Elizabeth Cady Stanton, Walt Whitman, Andrew Carnegie, and Thomas Edison. Mark Twain attended an Ingersoll lecture in Chicago in 1879 and later wrote that "the organ of human speech was played by a master."
Why then isn't he better remembered by history? It was because of his radical views on religion. He was known as "The Great Agnostic" having rejected Christianity as a young man. He disavowed the concepts of Heaven and Hell and constantly poked fun at religion in his lectures. He did much to further the movement for Free Thought and secular humanism. For this he was vilified by newspapers and condemned by preachers all over the country.
Robert Ingersoll died of heart failure in July of 1899 at the age of 65. Mark Twain wrote to Ingersoll's niece "Except for my daughter's, I have not grieved for any death as I have grieved for his." A more traditional viewpoint comes out of the family letters of another Yates County native, Admiral Frank Schofield, whose sister wrote to their mother in Penn Yan, "Bob Ingersoll is dead -- you will see it in the papers. I wonder where his soul is. He was a great man - in the wrong way." Mrs. Schofield then wrote to her son, "Frank, I presume you have read that Robert G. Ingersoll is dead. He will poison no more minds, poor man. I wonder if his lectures would be the same if he could return. Methinks not."
The Robert G. Ingersoll Birthplace Museum has been open to the public since 1993 and is located at 61 Main Street in Dresden. It is open on Saturdays and Sundays from noon until 5 p.m. through the end of October. The museum is run by the Council for Secular Humanism and is part of a Freethought Trail of historic sites throughout central and western New York. There is a terrific website at http://www.secularhumanism.org/index.php?section=ingersoll&page=museum which was used as a source of information for this article. There is also a link to the museum's introductory video on YouTube. However, there is no substitute for going to the museum, seeing the displays, and learning about the life of this famous Yates County native.
by Rich MacAlpine