From the Schofield Letters: Remember the Maine - Part 1
Yates Past - October 2007
The material for this article comes out of my project and research based on the 10,000 or so letters in our collection that were written by the family of Yates County's Admiral, Frank H. Schofield. By the way, last month I visited the Eastern Shore of Maryland, where Frank's wife Claribel was born and raised. The Talbot County Historical Society in Easton MD has another 5,000 letters written by the same people during the same time period that is the focus of my research. I hope I have the longevity gene so I can complete this project.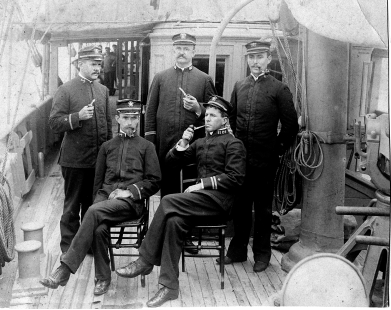 The officers of the USS Hawk; Seated: Frank Schofield on the left, Lieutenant Hood on the right
The nine year old battleship, USS Maine, blew up in the harbor of Havana, Cuba during the night of February 15, 1898. It had been down there to "protect American interests" during a revolt of Cuban revolutionaries against the Spanish, who controlled Cuba. 266 American sailors were killed in the explosion. The immediate reaction was to blame a Spanish mine although investigations over the years concluded that it was an internal explosion that originated either in a coal bunker or an ammunition magazine. There is still debate over that, but in 1898 there was little doubt in anyone's mind that Spain was responsible. Newspapers in the U.S. used the sinking of the Maine as well as other incidents, to create a demand for revenge among the American people. President William McKinley, who originally spoke against US intervention in Cuba, caved in to the war fever and asked Congress for a declaration of war against Spain on April 11th.
At that time Yates County native (and Penn Yan Academy grad) Ensign Frank Schofield was 29 years old with nearly twelve years in the Navy (counting the Naval Academy), At the time of the sinking of the Maine, he had just finished up an assignment as the Inspector of Ordinance at the Colt Arms Company in Hartford, Connecticut. He was given his new assignment because of his "scientific attainments". He was to report to a survey vessel in San Francisco which was going off on a three year expedition to chart the coastline of Alaska near the Klondike River. (The Gold Rush there had been going on for a year.) After taking the railroad to the west coast and after having been on board his new ship for about two weeks preparing for the expedition, it became quite clear that a war against Spain was inevitable. Around the first of April, Frank put in for an immediate transfer to the Atlantic Fleet. His orders were to report to the USS Vermont at the Brooklyn Navy Yard in New York...so back across country he went. When he got to Brooklyn, he found out that the Vermont was a receiving ship (used to house sailors before being assigned to other ships) and would not be leaving the dock. He put in for another transfer and was assigned to the USS Hawk.
The USS Hawk was a Scottish yacht that had been purchased by the Navy and converted into a gunship. The Navy bought 28 such private vessels to be converted to gunships or torpedo boats in early 1898. The Hawk had four officers and 42 sailors. The commander was Lieutenant John Hood, a survivor of the Maine explosion. Frank Schofield was his Executive Officer, second in command. After war was declared in mid-April, the Hawk left Brooklyn for Key West, Florida. Frank's wife of four years, Claribel, and his sister May were at the dock to see them off. Claribel then left for her family home on the Eastern Shore of Maryland for "the duration".... which was only about 100 days. She wrote to Frank: "I don't suppose your little Hawk would be able to capture a prize like the Nashville did. I hope she will not try....but most of all I hope and pray that she will not be captured herself. Somehow you seem to me so helpless in that little boat. The only comfort I have is that not being able to show much fight, she will have to keep out of it as much as she can. Above all things, however, avoid being captured. Let the little Hawk sink first. I would rather think of you at the bottom of the sea than in the hands of those barbarians. I tried your mother's plan of opening the Bible at random, thinking I might find a little comfort, and my eyes rested on the lines...."...and they put him in his grave." You can imagine how that made me feel. I just stayed awake for hours and hours imagining all sorts of dreadful things. Frank's sister May , then married and living in Brooklyn, wrote to her brother......The newsboys are yelling "war extras" in fiercer tones than ever. The Journal has new and still larger type with which to give vent to their overcharged feelings and desire for patriotic display. In fact, the whole atmosphere seems charged with a sort of warlike electricity but, as for me, I am just driveling down to a "peace at any price woman". The crowds before the bulletin boards increase constantly and loud and long are the cries for vengeance. I notice that it's the people who haven't the faintest idea of going to war that yell the loudest and are the most ferocious. Young George Evans has been constantly deploring the fact that his family and the uncertain state of his finances would prevent his going and he actually seemed to think that we believed him until the other day I told him not to waste his breath; that none of us believed that there was a team of oxen or mules in the country strong enough to drag him to the front. He was disgusted but he has been more mild since. But oh Frank, my heart is heavy with the awfulness of it all. It don't seem possible that in this day and age of the world, two civilized nations should go deliberately to seek to kill each other's citizens. War is a relic of barbarism and it seems strange and terrible that we should resort to it.
Also worrying for Frank's safety were his parents, George and Belle Schofield, who lived on North Avenue in Penn Yan. "Ma" Schofield's biggest concern was that Frank had not been "saved" in a religious sense (Frank was a bit of a religious skeptic.) She wrote to him.....It is a good thing to be loyal to your country but you have a wife and father, mother, brother, and sister. Think of their anxiety for you and their great sorrow should anything befall you. I lay nights and think about it....34 years ago my mother laid and thought about her boys. Now it's me. I think a war on land is terrible ....what must it be on the sea? I do shrink from it and hundreds of mothers today are keeping company with me. "Pa"s concern was based on the fact that he had been to war. He was a member of the 148th NY Infantry and a veteran of Cold Harbor, Spotsylvania, and Petersburg. He was wounded at Drewry's Bluff in Virginia and was witness to Lee's surrender at Appomattox. May wrote to her brother...... I have been thinking that just 34 years ago Tuesday, Pa was fighting at Spotsylvania Courthouse and now his boy is away down South fighting Spain. Doesn't it seem strange? Pa says it was far easier for him to go to war than it is for him to stay home and think of you in danger. It is far easier for you, for while you have the danger you have too the excitement of it all and then one never worries about themselves. But to stay at home and think....that is where the suffering comes in.
The USS Hawk, unarmored yet heavily armed, saw plenty of action off of the northern coast of Cuba during the Spanish-American War. Despite its small size, it got into the thick of things. Next month, in Part II, I'll use Frank's letters to his wife to cover two of the key incidents, one of which added greatly to his reputation in the Navy. After that incident, when he put his life on the line under enemy fire, his wife wrote to him....."Now Frank, you have proven yourself heroic in the eyes of everybody who cares whether you are heroic or not. Don't try it again. You have "remembered the Maine"....now remember those at home a little."
by Rich MacAlpine