Penn Yan's Whale Tale
Yates Past - May/June 2009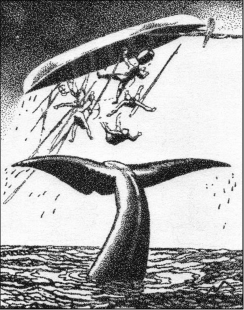 In May of 2000 noted author Nathaniel Philbrick, who lives on Nantucket Island, published a book titled In the Heart of the Sea. The book spent 40 weeks on the New York Times bestseller list and won the 2000 National Book Award for Non-Fiction. It told the story of the Nantucket whaling ship Essex that was on an expedition in the South Pacific in November of 1820 when it was rammed by an 85-foot long sperm whale and sunk. The crew of twenty got into three whaling boats and planned to row to the coast of South America, a voyage they estimated would take 56 days. It became a desperate struggle for survival for the crew members. One by one men succumbed to starvation and exposure and the survivors eventually resorted to cannibalism of those who perished. Only eight members of the crew lived to be picked up three months later by another whaling ship. They never made it to the shores of South America. Shortly after his rescue and return to Nantucket, First Mate Owen Chase wrote an account of his experiences onboard the Essex. It was a copy of that account that later inspired a young Massachusetts author, Herman Melville, in the writing of his most famous novel, Moby Dick, which was published in 1851.
So what does all that have to do with Penn Yan? In the preface of In the Heart of the Sea, Nathaniel Philbrick wrote, "For nearly 180 years, most of what was known about the calamity came from the 128-page Narrative of the Wreck of the Whaleship Essex, written by Owen Chase, the ship's first mate. Fragmentary accounts from other survivors existed, but these lacked the authority and scope of Chase's narrative, which was published with the help of a ghostwriter only nine months after the first mate's rescue. Then, around 1960, an old notebook was found in the attic of a home in Penn Yan, New York. Not until twenty years later, in 1980, when the notebook reached the hands of the Nantucket whaling expert Edouard Stackpole, was it realized that its original owner, Thomas Nickerson, had been the Essex's cabin boy." That touched off a few phone calls to the Penn Yan Public Library which were fielded by Reference Librarian John Creamer and Local History Specialist Joanie Hand. People wanted to know the details.... Where in Penn Yan was the manuscript found? Who had it? How did they get it? John Creamer contacted the Nantucket Historical Association and that was when he found out that the story of the manuscript was a bit more complex than originally thought.
The 105-page manuscript was written in 1876, 56 years after the Essex was sunk. At the time Nickerson wrote his account, he was running a boarding house on Nantucket. One of his summertime boarders was a Penn Yan man, Leon Lewis. Lewis wasn't a native of Penn Yan but he had married a girl from the village, Harriet O'Brien, and lived there for twenty years. His house in now the rectory for St. Michael's on Liberty Street. Leon and Harriet Lewis were both writers. They wrote separately and there were times when they collaborated on stories. Leon wrote short stories, serialized stories, and novelettes for various periodicals and newspapers and had quite a reputation both in the US and Europe. Upon hearing of Nickerson's account of the incident with the Essex, Leon Lewis talked him into letting him take the manuscript so he could edit it and get it ready for publication. Upon returning to Penn Yan, Lewis' life became somewhat chaotic. In 1878, he and his wife started a newspaper, The Penn Yan Mystery, as a vehicle for their writing. Just before the first edition was released, Harriet Lewis, who had been seriously ill, died. There never was a second edition. Leon Lewis left town just ahead of the bill collectors and headed to England along with his wife's fourteen year old niece, who he eventually married. Five years later, Thomas Nickerson died on Nantucket. The end result was that the manuscript was temporarily forgotten.
A sheriff's sale of Leon Lewis' property was held to pay off some of his creditors. Before the sale, a good friend of Lewis, Darius A. Ogden, was able to get possession of several items of value including Nickerson's manuscript. Ogden, a prominent newspaper man and politician, lived on the corner of Clinton and Hamilton Streets in Penn Yan and that's where the manuscript stayed until 1960. It was passed down through the Ogden family along with the house. It was there that it was discovered in the attic by Ann W. Finch, who took it home with her to Hamden, Connecticut. She kept it in a box in her study for another twenty years. She thought the story was fantasy. "The story seemed a little far-fetched to me. I thought it was copied by some sea-struck young man who read it someplace and wanted a copy of it for himself." After a summer vacation to Nantucket in 1980, she decided to send it to their Historical Society to see if it was authentic. After analysis, they realized the historical significance of the manuscript which was then donated to them. It was published by the Nantucket Historical Association using Nickerson's original title, The Loss of the Ship "Essex" Sunk by a Whale and the Ordeal of the Crew in Open Boats. That was in 1984, 108 years after Thomas Nickerson handed it over to Leon Lewis for that purpose. In 1986, Nathaniel Philbrick moved to Nantucket and became interested in the history of the island and the whaling industry in particular. Since the publication of In The Heart of the Sea, he has become a prolific writer.

Julius Warren "Leon" Lewis
(1833 - 1920)

Thomas Nickerson

(1803 - 1883)
by Rich MacAlpine