"Wild Bill" Albertson and His Miller Special
Yates Past - May 2010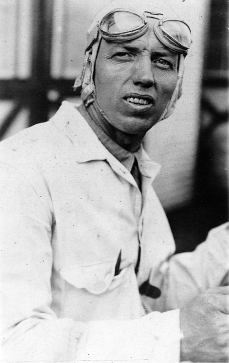 The first real sports boom in American history occurred during the Roaring Twenties and it turned a number of athletes into national icons. There were Babe Ruth and Ty Cobb in baseball, Red Grange and Knute Rockne in football, Bobby Jones and Walter Hagen in golf, Bill Tilden and Helen Wills in tennis, Jack Dempsey and Gene Tunney in boxing, etc. A sports figure who dominated the local scene during the 1920s was Bill Albertson. He was an amateur race car driver who started out on local dirt tracks and by the mid to late 1920s was racing against some of the best known names in the sport .... and winning. The high point of his career was when he and a car he owned raced in the Indianapolis 500 in May of 1929. The local newspapers of the time, the Chronicle Express and Penn Yan Democrat, followed Bill Albertson's every move in racing and so did the readers they served.
Bill was the son of Danish immigrants who farmed near Geneva. When his father died his mother moved into Penn Yan with her children. As a young man he worked as an auto mechanic in different garages in Penn Yan, starting with the one owned by Allen Wagner on East Elm Street. In 1915 he bought his own business on Central Avenue (The building is still there located directly behind Trombley Tire). He got into racing at that same time, driving a Maxwell touring car which he had converted into a race car. He started at the Yates County Fairgrounds and then on local dirt tracks throughout central and western New York. In 1920 he modified a Chalmers race car and started to earn a reputation throughout upstate New York. When he bought a Duesenberg racer in 1921 the Syracuse Post Standard reported "If Bill Albertson, a local automobile mechanic, ever can get an automobile that will travel fast enough to suit him, he will be among the peers in the racing game. ..... fans in this section believe Bill will carry away three-fourths of the events on the dirt tracks of New York state this summer." It was at that time that he picked up the nickname "Wild Bill" because it seemed that he would take any chance to win a race. When he finished second at the New York State Fair in Syracuse in 1922 against some of the top racers in the country, his reputation grew throughout the Northeast. Through the mid 1920s he raced at county fairs and tracks throughout New York, New Jersey, Pennsylvania, and Ohio. Although he was banned from a few tracks because of his reckless driving, he set track records at several others and became a headline attraction wherever he raced. His standing in racing circles got to the point where he could demand a cash guarantee just to compete in a race. By 1927 his reputation had grown to the point that he was scheduled to be a relief driver at the Indianapolis 500 on Memorial Day but he had to cancel due to the untimely death of his mother-in-law. In 1928 he bought a 1923 Miller 122 for around $12,000 (the car shown in the photo on the next page). Harry Miller of California was a well known race car builder and his cars dominated competition throughout the 1920s and early 1930s. Only 37 of that particular model were made. The car Albertson bought had already run in three Indy 500s and once finished as high as fourth. In "Wild Bill"s first seven starts with the new car, he set five new track records. The next spring he felt good enough about the car to enter it in the 1929 Indianapolis 500. Still recovering from injuries when his car went through the fence at Langhorne racetrack the previous October, Albertson asked Frank Farmer of Pennsylvania to be the primary driver. Bill would do mechanic duties and be the relief driver. Bill raced the car in laps 119 to 134 when Farmer took over driving duties again. Car #36 developed problems with its supercharger and was forced to drop out of the race on lap 140. It started the race in the 26th position and finished in 14th. Their prize money was $459.

Albertson continued to race his Miller Special the remainder of 1929, winning 100 mile races at Lehighton and Bloomsburg in Pennsylvania. 1930 started out promising enough for "Wild Bill" as he scored a win in a 100 mile race in Toledo, Ohio. Through the summer he raced at Langhorne in Pennsylvania, Woodbridge in New Jersey and on Long Island. The year turned tragic in August, however, when he took his car #36 to the half-mile clay track at the Orange County Fair in Middletown, New York. In a time trial he was attempting to set a new track record before a crowd of 16,000 people. The Middletown newspaper had a dramatic description of what happened.
"Finally the wine colored machine was wheeled to the starting line and Albertson tightened his familiar white whipcord helmet. Elmer Gerner, the starter, wished Albertson luck. His wife strolled back behind the judge's stand where she could better watch the trial. In a moment Wild Bill was off for the first preliminary circling of the track. Down the course came the car high on the track for the breathless swerve into the first short turn. Gerner gave him the green starting flag and a dozen watches clicked. It was obvious Albertson's attempt was to be terrifically fast. He pulled the car past the first turn and gave it the gun to the far stretch. At the three-quarters pole stopwatches afterward indicated he was traveling at a 27 second gait or approximately 73 miles per hour in the short straight-away. But as Albertson whisked into the far turn his car suddenly lunged sideways, rolled over once at right angles, and then with tremendous momentum up-ended from the rear and bounced high in the air. Albertson was hurled from the seat, a flying figure with arms and legs spread like a white robed diver plunging from some high springboard. As he neared the ground 40 feet away he seemed to double forward in position practiced by drivers to break falls of less momentum. He hit the track's center on his shoulders and rolled over thrice as though ending swift handsprings. Suddenly he slithered into the guardrail. Under the guide rail lay Albertson, his head crushed. Younger, his mechanic, arrived. He hurried past the blanketed figure and savagely kicked a wheel of the death car, which had stopped upright in center track 75 yards from the first skid marks. The car was little damaged. Preliminary examination disclosed that a right front wheel had apparently frozen and thus had slung the light car into uncontrolled skids."
At the time of his death, Bill Albertson was 42 years old. He and his wife lived on Benham Street in Penn Yan. The community was shocked and saddened by his death. Over fifty friends, neighbors, loyal fans, and customers traveled up to Rochester for his funeral and burial. Elizabeth Albertson sold her husband's car #36 to another driver and it continued to race into the late 1930s. Then, since Harry Miller only made a few of that particular model, it became a collector's item and passed through a series of collectors in the US and England. It has been fully restored and sold at a California estate sale in 2008 for $2,035,000. It is currently owned by the retired Chairman of the Winn-Dixie chain of grocery stores who lives in Florida and he has taken what was once "Wild Bill" Albertson's car #36 to shows and competitions. It won Best in Show at the prestigious Concours d'Elegance at Amelia Island, Florida in March of 2009.
by Rich MacAlpine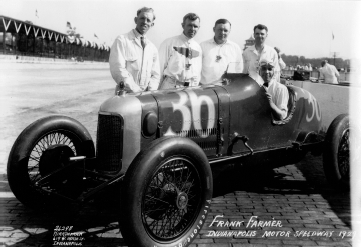 Bill Albertson's Miller "Special" at the Indianapolis 500 on Memorial Day, 1929
Frank Farmer is in the driver's seat and "Wild Bill" is standing farthest to the left.