Standing proudly on Main Street in Penn Yan is the anchor building of the Yates County History Center, the Oliver House Museum, one of three buildings comprising the YCHC. The Center, formerly Yates County Genealogical & Historical Society, is one of the oldest in NYS, has been actively collecting, preserving and interpreting history since 1860. Continue reading about us...


| | |
| --- | --- |
| Open Tuesday - Friday 9:00 am - 4:00 pm | |
| | |




Visit Us
Oliver House Museum
L. Caroline Underwood Museum
Scherer Carriage House Museum
Exhibits
Events Calendar
Digital Resources
Collections

Genealogy & Historic Research
Becoming a Member
Book Store
Article Archive

About Us
Links
Site Map
Masks are encouraged for all visitors to the Yates County History Center.
Yates 200: Exploring Two Centuries of Yates County History

Explore interesting facts and images of each town in Yates County as we celebrate our Bicentennial with this new exhibit! It features artwork made by local artists, artifacts and photos that celebrate our history and culture.

Funded by a Humanities New York Action grant with support from the National Endowment for the Humanities.
Faces of Yates:
Images of Yates County's Early Residents

Just in time for Yates County's bicentennial, visitors can enjoy photographs and portraits of those living in Yates County when it was formed two centuries ago.

On display in the Oliver House Museum, the images in the exhibit feature early citizens who lived long enough into the age of photography to have their likenesses taken. Photography was in its infancy when these people sat for pictures. The first few generations that were photographed wore their best clothes and kept solemn faces for this important occasion.
Scavenger Hunt Winners

Following a journey that brought 10 teams to historic sites and places of interest in each of the nine towns in Yates County, the Yates County History Center has determined the winners of the third annual History Scavenger Hunt. The team of Jim and Elaine Hilton and Elizabeth Boesen came in first place, while the team of Melissa Lamphier and Stacey Gerhardt and the team of Aaron and Beth Witt tied for runner-up.

A total of 10 teams registered and participated in the third annual History Scavenger Hunt. The scavenger hunt provided a fun way for the participants to learn about our local history while competing against other teams to see who knows the most. A series of clues and questions led teams to historic sites and places of interest in every town in the county. Teams received points for correctly answering the questions, and the teams with the highest totals of points won the hunt.

Finton's Landing Bed and Breakfast on Keuka Lake in the town of Barrington - the site of the George Finton family's home and their two basket factories - was one of the several historic sites throughout Yates County that teams had to find during the Yates County History Center's third annual History Scavenger Hunt.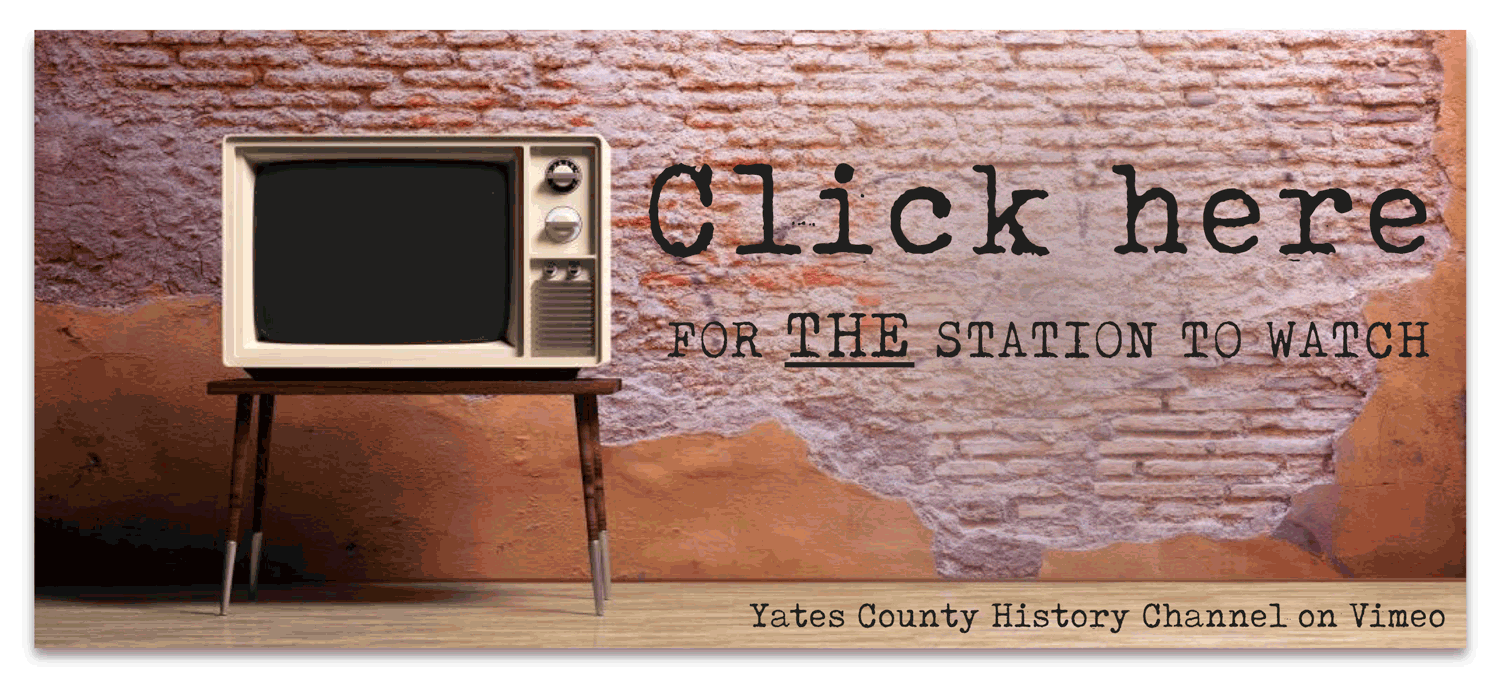 Children's Room
The youngest visitors to the Yates County History Center now have a fun filled room just for them. The children's room at the Oliver House Museum is now open for everyone's enjoyment.
Executive Director Tricia Noel noted that past visitors to the History Center had asked about child friendly activities in Yates County. "We are very pleased to offer a fun learning experience for our youngest guests. The agricultural theme is a salute to our farming friends and neighbors."
The dedicated room on the second floor of the Oliver House Museum is painted a colorful blue and decorated with images of young farm animals. Children are invited to come and meet Betsy the cow and harvest apples off a tree. Betsy, a holstein dairy cow, stands four feet tall. A raised bed veggie patch is filled with carrots for kids to harvest and apple tree for picking apples. Puzzles, books, a chicken coop and barn are all available for visitors to play with.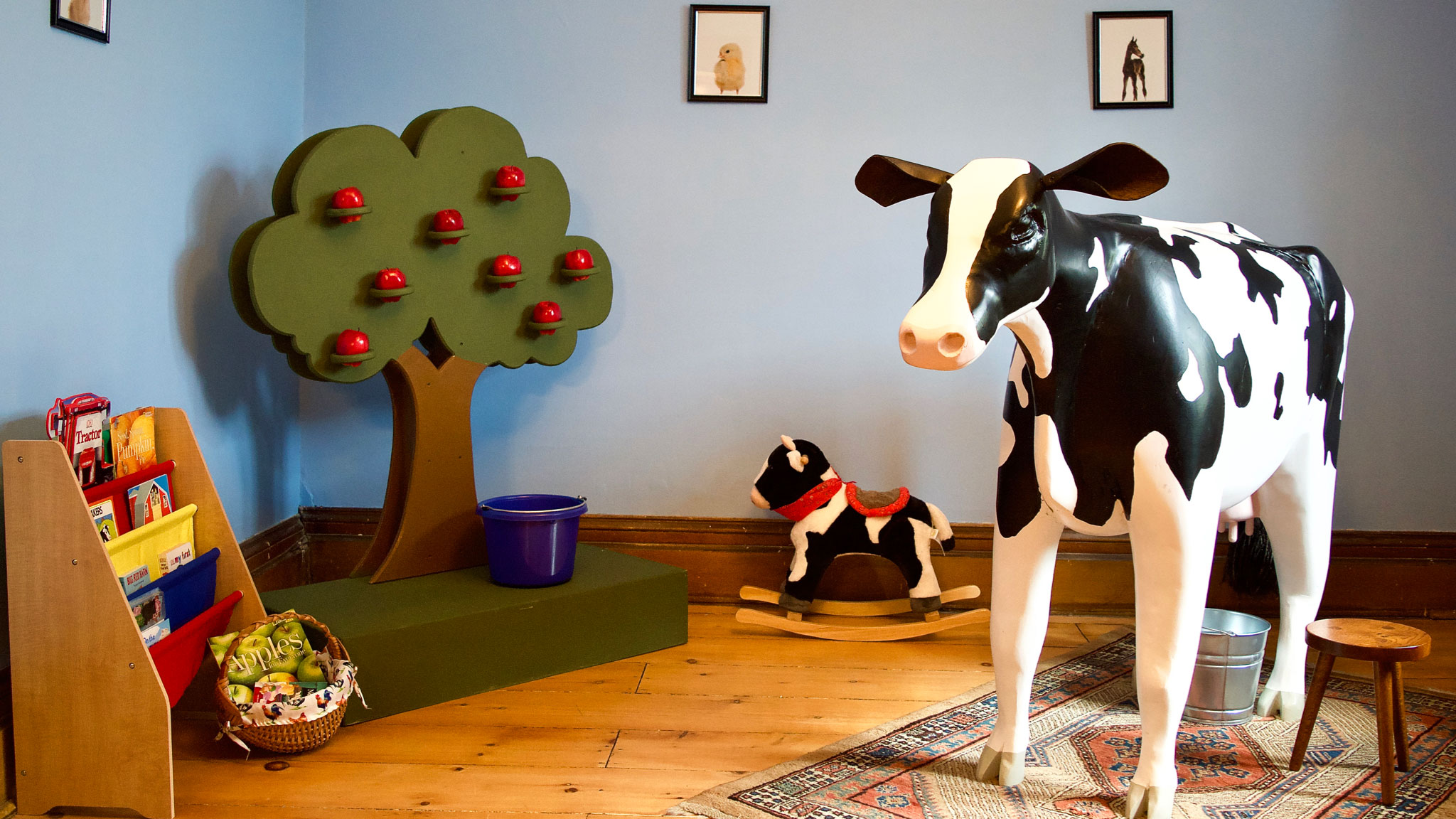 Betsy the Cow was handcrafted and donated by Oak Grove Woodworking and students from Penn Yan Academy constructed and donated this vibrant apple tree.
Digital Resources

The Spencer Research Center located on the first floor of the L. Caroline Underwood Museum now has a computer dedicated to making available our digital resources which include all of the Yates County newspapers available to us and over 6,000 photographs. All are indexed and easily searched.

Visit our changing selection of photographs.

Included in a Yates County History Center membership is the on-site use of the Spencer Research Center.

Becoming a Member
Becoming of member of Yates County History Center makes it possible to continue our mission to collect, preserve, interpret and share the history of Yates County's people, places and events.
Our work and present level of programming is supported largely by financial support through membership and contributing donors.
We appreciate the business members who care about local history and are helping us in our mission to collect, preserve and promote Yates County's rich heritage. Please patronize these friends of YCHC.
---

Open Tuesday - Friday 9:00 am - 4:00 pm
107 Chapel Street, Penn Yan, NY 14527
Phone 315.536.7318 | Fax 315.536.0976
Email YCHC | Email Webmaster
Monday, July 17, 2023 | Copyright © 2023


A community museum where every story matters!