Children's Room
The youngest visitors to the Yates County History Center now have a fun filled room just for them. The children's room at the Oliver House Museum is now open for everyone's enjoyment.
Executive Director Tricia Noel noted that past visitors to the History Center had asked about child friendly activities in Yates County. "We are very pleased to offer a fun learning experience for our youngest guests. The agricultural theme is a salute to our farming friends and neighbors."
The dedicated room on the second floor of the Oliver House Museum is painted a colorful blue and decorated with images of young farm animals. Children are invited to come and meet Betsy the cow and harvest apples off a tree. Betsy, a holstein dairy cow, stands four feet tall. A raised bed veggie patch is filled with carrots for kids to harvest and apple tree for picking apples. Puzzles, books, a chicken coop and barn are all available for visitors to play with.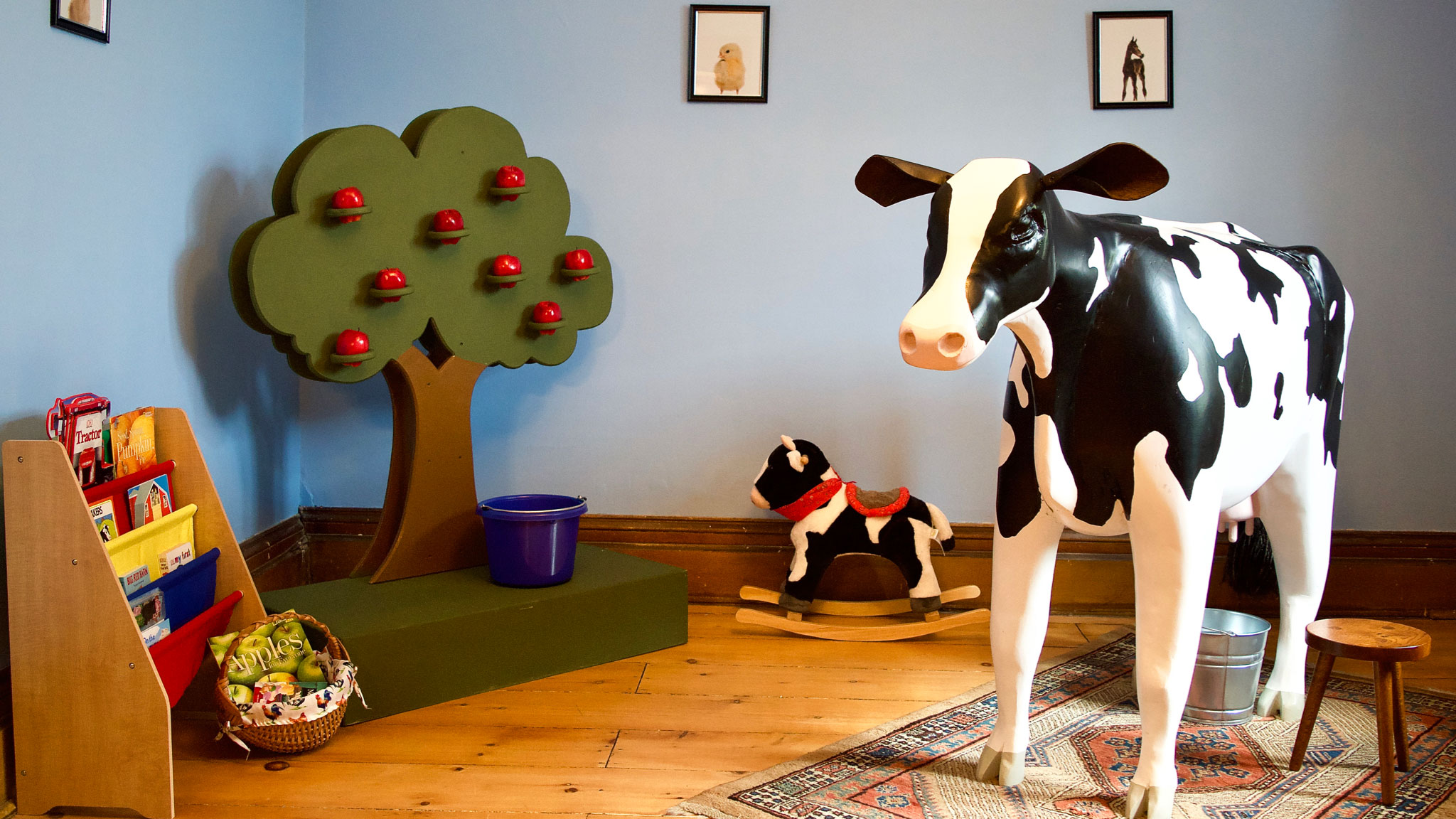 Betsy the Cow was handcrafted and donated by Oak Grove Woodworking and students from Penn Yan Acdemy constructed and donated this vibrant apple tree.
Digital Resources

The Spencer Research Center located on the first floor of the L. Caroline Underwood Museum now has a computer dedicated to making available our digital resources which include all of the Yates County newspapers available to us and over 6,000 photographs. All are indexed and easily searchable.

Visit our changing selection of photographs.

Included in a Yates County History Center membership is the on-site use of the Spencer Research Center.
How Should We Then Live?
The Groffdale Conference Mennonites of Yates County
Recently opened in the L. Carolyn Underwood Museum, How Should We Then Live? explores the customs of these deeply religious people. Extraordinary images of this beautiful Finger Lakes county and its unique citizens create a stirring exhibit promoting understanding and neighborly love.
Funded by a Humanities New York Action grant with support from the National Endowment for the Humanities.
Irish Domestics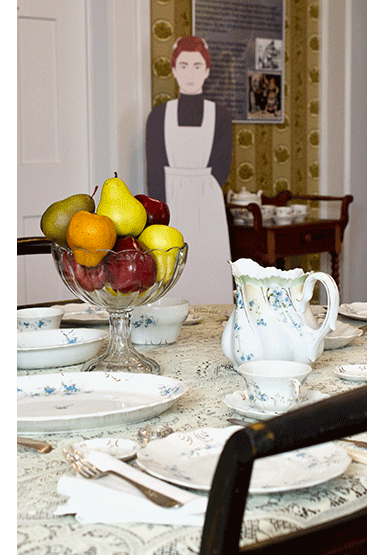 The Great Hunger or the Great Irish Famine of 1845 - 1851 caused mass migration, as about 1.5 million people fled Ireland, mostly to North American eastern coast ports.
By 1850, there were just over 300 Irish-born people living in Yates County with the vast majority living in the village of Penn Yan. Ten years later the number of Irish-born people in the county more than doubled to over 700 or about four percent of the total population, the greatest concentration still in Penn Yan.
They brought much needed unskilled labor to the area that was rapidly developing agriculturally and industrially. The 1860 census reveals that 80 percent of the 302 Irish-born men listed "farm laborer" or "day worker" as their occupation and that all but two of the 125 Irish-born women listed "domestic servant" as their occupation.
Early Irish immigrants to Yates County were considered foreign and their Catholic religion in a strongly Protestant area was met with disdain. Eventual acceptance came only after their participation in the Civil War.
The Oliver family employed several female servants throughout their years on Main Street. Visit the Oliver House Museum and learn what it must have been like for Mary Finnegan, age 19, or Kate Sweeney, age 15, to be servants in the Oliver household in 1860. See a few small artifacts that made the journey with these young ladies across the Atlantic.
The above was taken in part from the article "The Irish in Yates County" written by Richard MacAlpine that was originally published in "Yates Past."

Becoming a Member
Becoming of member of Yates County History Center makes it possible to continue our mission to collect, preserve, interpret and share the history of Yates County's people, places and events.
Our work and present level of programming is supported largely by financial support through membership and contributing donors.
We appreciate the business members who care about local history and are helping us in our mission to collect, preserve and promote Yates County's rich heritage.
Please patronize these friends of YCHC.
History Meets Media
Yates County History Center often helps local students with their local history research projects. Did you know that for a few years now, thanks in part to a grant, AP History students from Penn Yan Academy have had the learning opportunity to select a local history subject of their choice, research it and create a documentary? Below are a couple examples.
"Over There" and Over Here: Yates County In The Great War (1916-1919) is the newest addition to YCHC Heritage Books & Gifts.

Inspired by the 100 year anniversary of the Great War, each chapter is a bimonthly look at the progress of the war and how the local community reacted to it starting in November of 1916 when the United States was trying to maintain neutrality. The final chapter describes the enthusiastic welcome home celebration for local servicemen on the 4th of July 1919.

Visit YCHC Heritage Books & Gifts today and find more treasures on local history!
| | |
| --- | --- |
| Check us out Amazon shoppers! AmazonSmile is a simple and automatic way for you to support Yates history! Every time you shop at smile.amazon.com, with Yates County Genealogical & Historical Society as your charitable organization, Amazon will donate a small percentage of your purchase amount to the Yates County History Center. | |