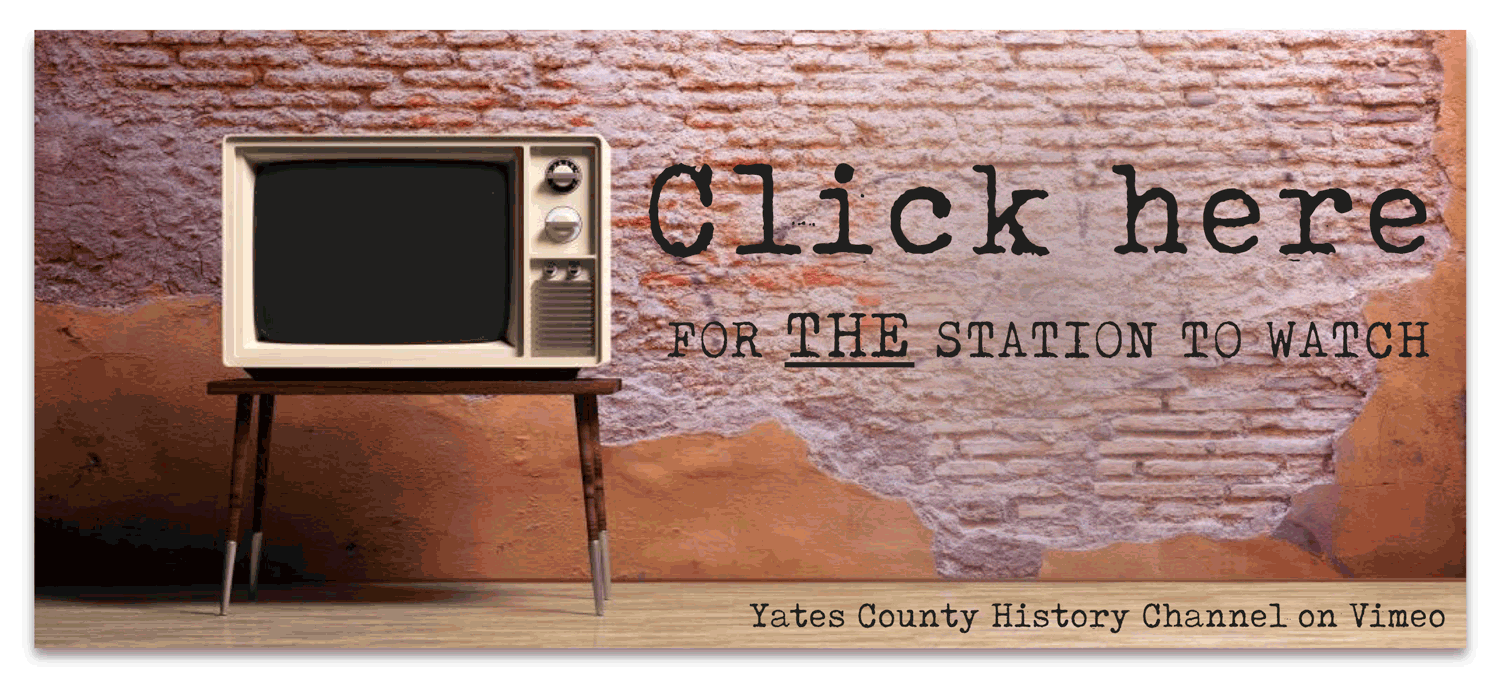 Women Vote!

In honor of the 100th anniversary of all women in the United States being able to cast their vote in November, Women Vote! is on display in the Oliver House Museum. This five panel exhibit, courtesy of the Southern Tier Library System, includes a display of decorative women's collars from YCHC collections, in honor of the late Justice Ruth Bader Ginsberg.

Women Vote! will be open through December.
Here Come The Brides: Yates County Wedding Fashions 1761-1992

Welcome virtual visitors!

Here Come The Brides, on exhibit in the Oliver House Museum, is now online to visit virtually.

Take a moment to enjoy the remarkable wedding pieces from our costume collection representing over two centuries of wedding wear. From Adam Hunt's 1759 wedding suit to a 1982 gown, each piece makes a stylish statement.
The Doctor Is In - The Doctors Oliver and 19th Century Medicine in Yates County

Welcome virtual visitors!

The Doctor Is In, on exhibit in the Oliver House Museum is now online to visit virtually.

Three generations of Olivers practiced as physicians in Penn Yan for 100 years, starting with Dr. Andrew Oliver who moved to Penn Yan in 1813. Their level of training and scientific knowledge increased through the generations.

"How'er their patients may complain of head, or heart, or nerve, or vein ..."
Children's Room
The Children's Room is Temporarily closed due to COVID ... The youngest visitors to the Yates County History Center now have a fun filled room just for them. The children's room at the Oliver House Museum is now open for everyone's enjoyment.
Executive Director Tricia Noel noted that past visitors to the History Center had asked about child friendly activities in Yates County. "We are very pleased to offer a fun learning experience for our youngest guests. The agricultural theme is a salute to our farming friends and neighbors."
The dedicated room on the second floor of the Oliver House Museum is painted a colorful blue and decorated with images of young farm animals. Children are invited to come and meet Betsy the cow and harvest apples off a tree. Betsy, a holstein dairy cow, stands four feet tall. A raised bed veggie patch is filled with carrots for kids to harvest and apple tree for picking apples. Puzzles, books, a chicken coop and barn are all available for visitors to play with.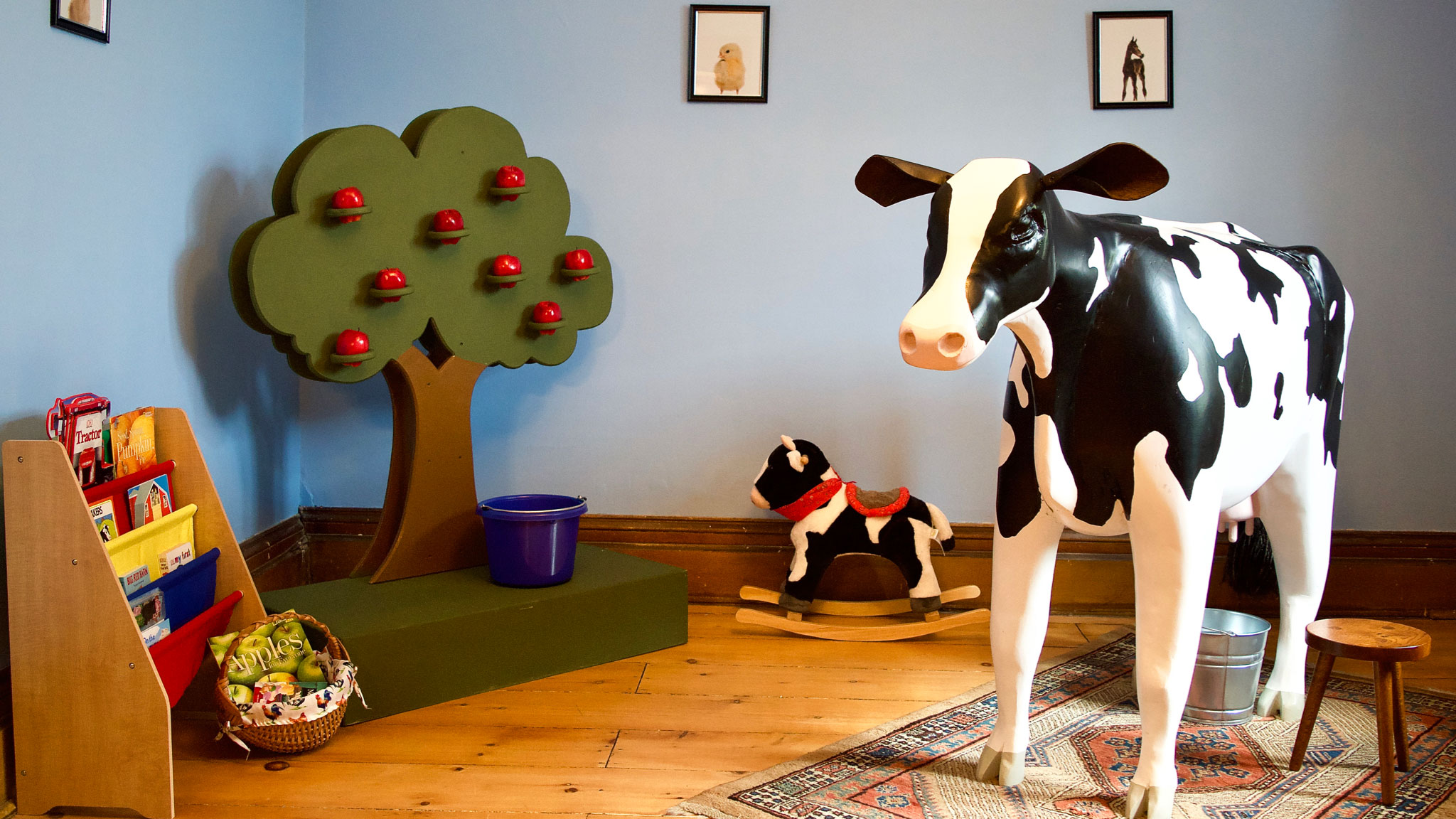 Betsy the Cow was handcrafted and donated by Oak Grove Woodworking and students from Penn Yan Academy constructed and donated this vibrant apple tree.
Digital Resources

The Spencer Research Center located on the first floor of the L. Caroline Underwood Museum now has a computer dedicated to making available our digital resources which include all of the Yates County newspapers available to us and over 6,000 photographs. All are indexed and easily searched.

Visit our changing selection of photographs.

Included in a Yates County History Center membership is the on-site use of the Spencer Research Center.
How Should We Then Live? The Groffdale Mennonites of Yates County is the newest addition to YCHC Heritage Books & Gifts.

Inspired by a recent exhibit in the L. Caroline Underwood Museum, Yates County History Center Executive Director Tricia Noel and Mennonite Spokesman Ivan Martin do a great job of answering questions that visitors or locals may ask about the Mennonite Community.

Visit YCHC Heritage Books & Gifts today and find more treasures on local history!
Yates County Historic Newspapers

NYS Historic Newspapers provides free, searchable online access to Yates County newspapers and more than 9 million other NYS newspaper pages. Since 2015, we have imaged and digitized our entire collection, approximately 190,000 pages, of which 160,000 are now available for searching at NYS Historic Newspapers.

The guide General Comments and Search Examples will help you get started searching these valuable resources, including a workaround to handle minor problems searching. A list of the various newspaper titles included can be viewed here.
History Meets Media
Yates County History Center often helps local students with their local history research projects. Did you know that for a few years now, thanks in part to a grant, AP History students from Penn Yan Academy have had the learning opportunity to select a local history subject of their choice, research it and create a documentary? Below are a couple examples.

Becoming a Member
Becoming of member of Yates County History Center makes it possible to continue our mission to collect, preserve, interpret and share the history of Yates County's people, places and events.
Our work and present level of programming is supported largely by financial support through membership and contributing donors.
We appreciate the business members who care about local history and are helping us in our mission to collect, preserve and promote Yates County's rich heritage. Please patronize these friends of YCHC.
| | |
| --- | --- |
| Check us out Amazon shoppers! AmazonSmile is a simple and automatic way for you to support Yates history! Every time you shop at smile.amazon.com, with Yates County Genealogical & Historical Society as your charitable organization, Amazon will donate a small percentage of your purchase amount to the Yates County History Center. | |